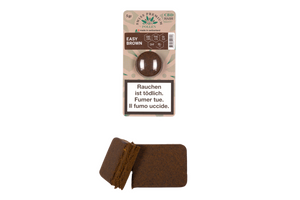 Bio Brown is derived from outdoor hemp crops grown without chemical pesticides or fertilizers. The entire production of flowers from which Bio Brown is made is certified Bio Bud (Bio Suisse).
Frequently Bought Together
How to taste Swiss Premium Pollen Bio Brown 1%
Burning
It burns rather easily and remains pleasant in spite of a high dosage. Its balance and its naturalness make it a pollen which is consumed alone or accompanied by your favorite mix. Be careful not to marry it with something too pronounced so as not to make the taste too saturated or uneven.
Vaping
The ideal temperature to vaporize one of our pollens is between 200°C and 210°C. Be careful, exceeding 210°C will lead to combustion. To take advantage of all its flavour, we recommend you to taste it in a vaporizer. It offers a very pleasant earthy note.
Infusion
Need an alternative? Think about infusion! The health benefits and effects will be even better. You can infuse our hemp dust in a fatty substance (milk, butter,...) and thus benefit from the effects of CBD by mixing your infusions with your culinary preparations.
Agriculture biologique
This Kief is organically grown. It comes from outdoor hemp crops cultivated without pesticides or chemical fertilizers. The entire production of flowers from which our dry extract is derived is labelled Bio Bourgeon (Bio Suisse) and our products are certified by ProCert, meaning that we respect the Swiss ordinance on organic agriculture (as well as the equivalent regulation of the EU).
To obtain the organic label, a farmer must complete three years of conversion while respecting the imposing specifications, being subjected to numerous controls during which his products are regularly analyzed.
0 User Review about Swiss Premium Pollen Bio Brown 1%
All you need to know about CBD
What is CBD? Your Guide to CBD