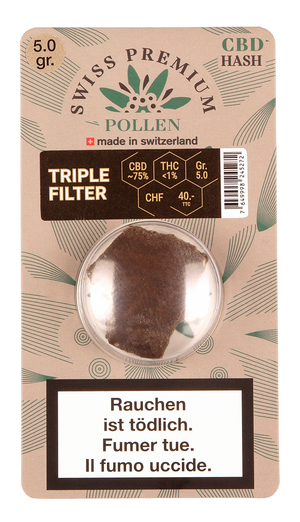 By definition, the Triple Filter is the result of a cold extraction that has been filtered three times. It's a strong product aimed at a well-informed audience.
More From Swiss Premium Pollen
A strong product intended for an informed public
Our Triple Filter comes with levels of up to 80% CBD – this is a truly powerful product. Finely chop for better consumption. Always pay close attention to the dosage.
How to taste Swiss Premium Pollen Triple Filter
Burning
You can consume it by itself or in mixture, our Triple Filter is a powerful product which remains balanced. Pleasant to consume, it is nevertheless necessary to watch the dosage. A small quantity is enough to get strong flavours and effects.
Vaping
The ideal temperature to vaporize our Triple Filter is between 200°C and 210°C. Be careful, exceeding 210°C will lead to combustion. To take full advantage of what it has to offer, we recommend you to taste it in the vaporizer. It offers powerful effects and earthy flavors.
Infusion
Need an alternative? Think about infusion! The health benefits and effects will be even better. You can infuse our hemp dust in a fatty substance (milk, butter,...) and thus benefit from the effects of CBD by mixing your infusions with your culinary preparations.
0 User Review about Swiss Premium Pollen Triple Filter
All you need to know about CBD
What is CBD? Your Guide to CBD